Stone pattern prepainted coils/color coated design pattern steel coils
Product Detail
Product Tags
What is design PATTERN PPGI
STONE pattern coated steel coil is based on galvanized, aluminized zinc substrate, coated with special colors and modulated graphics. Because the pattern is similar to brick, it is called brick color coated steel coil. It is mainly used in architecture, decoration and so on.
Because there are many types of STONE/MARABLE patterns, the paint can be customized.
Product Name
Stone pattern prepainted coils/color coated design pattern steel coils
Place of Origin:
Boxing, Shandong
Brand Name:
YIFU STEEL
Thickness:
0.11-1.0mm
Width
30-1250mm as required
Coil ID
508mm/610mm
Zinc coating
30-275g/㎡
Packaging
Standard Sea-worthy Packing
Coil Weight:
3-8 tons as your require
Payment
FOB 30% deposit,70% before shipment
Coating:
PVDF,SMP,HDP,PE
Material:
ASTM/AISI/SGCC/CGCC
Surface Treatment
Mable, Brick, Flower, Grass, Wood, Camouflage, text, etc.
Export market
 Central Asia, Southeast Asia, Middle East, South America, North America, etc
Transport
Ocean Shipping
Hardness:
Soft hard, medium-hard, full hard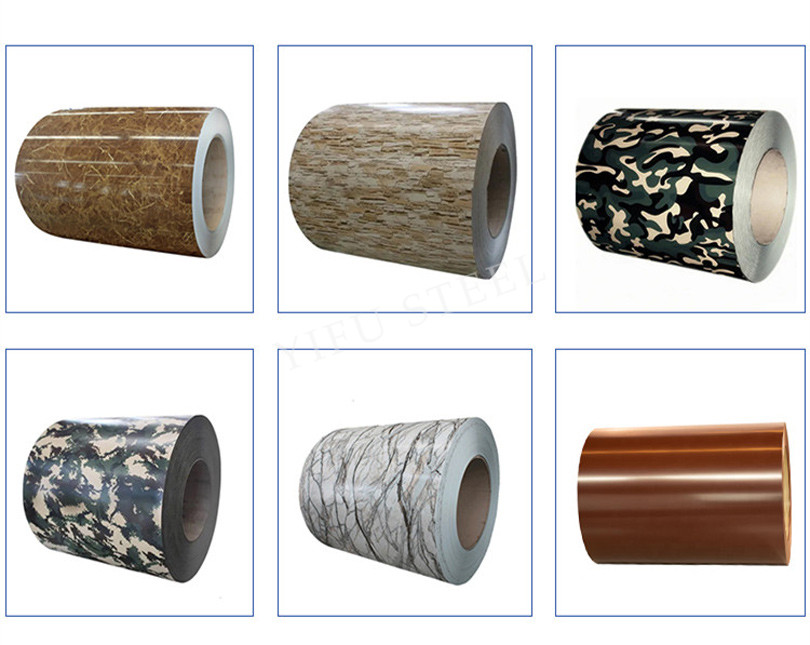 Product size can be customized
We can customize the related products with unique size according to the customer's requirement.
Uncoiling---Accumulation---Cleaning ---Chromate coating---drying---Primer coating&back coating---Drying oven---Cool down---top coating---Drying oven---Cool down---Printing---Clean coating---Drying oven---Cool down---Laminated film---Air-cooling---Accumulation---protective film---Recoiling.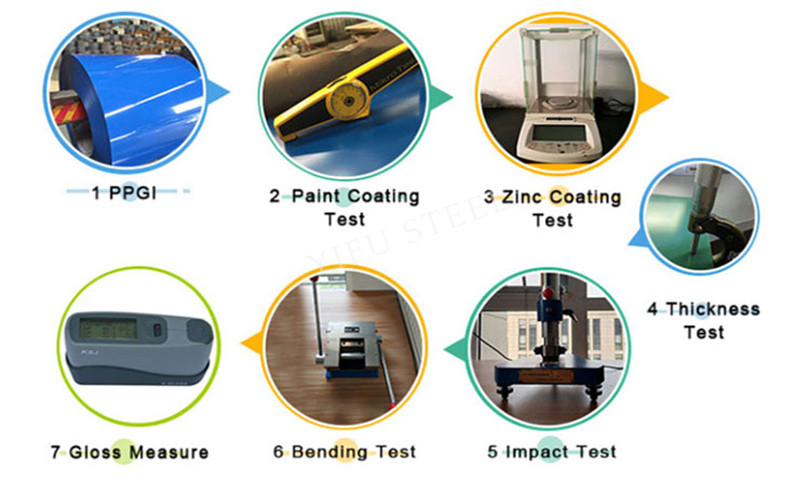 PPGI/ PPGL/PPGI wood pattern/ PPGI design pattern
Paint coating test
Zinc coating Test
Thickness Test
Impact Test
Bending Test
Gloss measure
Chemical Composition of The Product

❀Top paint film:
RPE, SMP, HDP,PVDF,Other paints.
Function: It functions as a sunlight proof cover, especially prevent the destroy by the ultraviolet rays. When the top paint film reaches a certain thickness, it forms a compact cover, and reduce the water and oxygen permeability.
❀Primer paint film:
Polyurethane, Epoxy, PE
Function:Strengthen the adhesiveness between the top paint film and the basemetal. Even permeable water happens, the top paint film will not peel off. There is corrosion inhibitor which is corrosion resistance. Polyurethane is necessary for higher processing flexibility and weather resistance requirements.
❀Passivation layer
Function:Increase the adhesion between the metallic layer and coating film. Extend life span also.
❀Metallic coating
Function:The metallic coating provides the fundamental protection for the steel.
The popular coating metal are galvanize, galvalume and other alloyed metals.
❀Substrate steel
Cold rolled steel is usually used as substrate, it decides the mechanical properties and the steel shape and flatness.
❀Back paint film
Epoxy, Modified PE.
Back paint can sustain color in good condition and has good binding.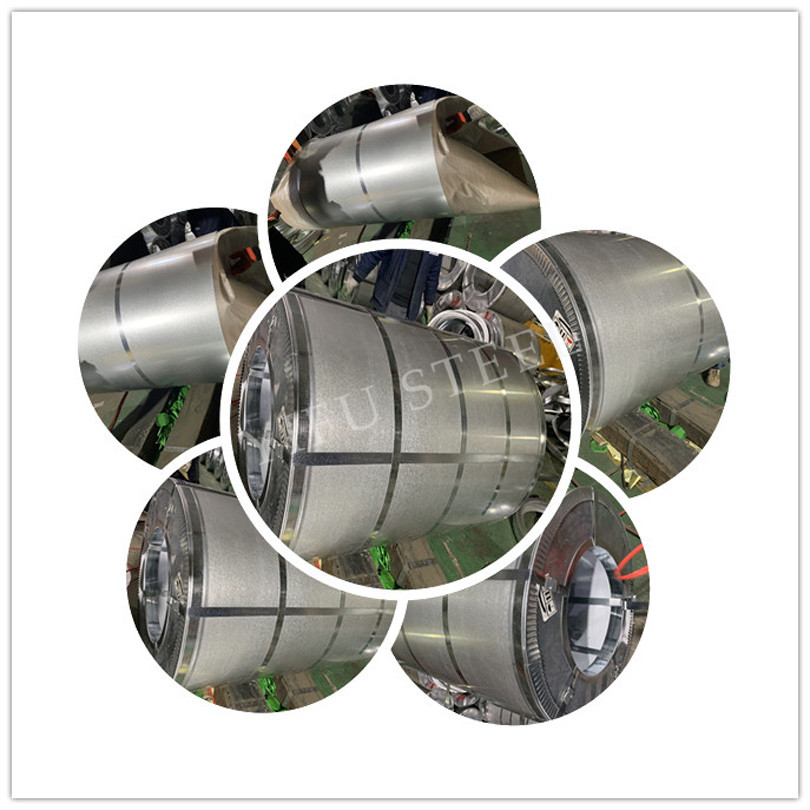 Standard and seaworthy packing :
• 508mm/610mm paper or steel tube in the middle of coil.
• 5 eye bands 5 circumferential bands in steel.
• Galvanized metal fluted rings on inner and outer edges.
• Galvanized metal&waterproof paper wall protection disk.
• Galvanized metal&waterproof paper around circumference and bore protection.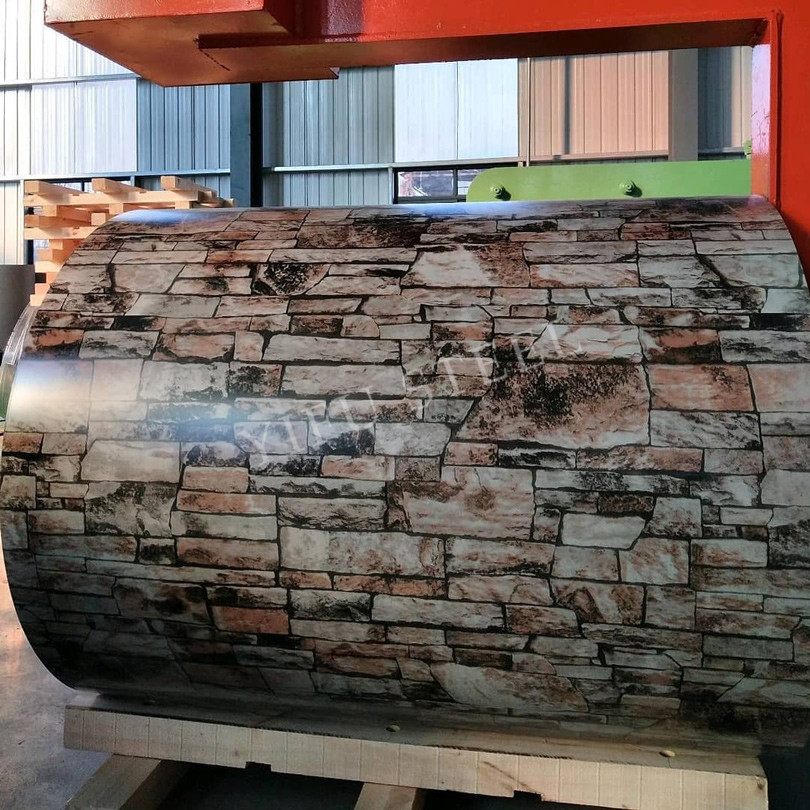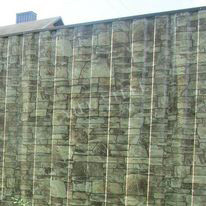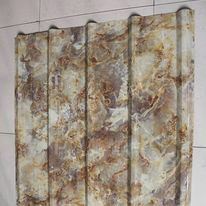 ---
---